Last week, Gatehouse launched their biggest State of the Sector report to date. The global report is designed to measure the internal communications landscape, looking at IC Pros challenges and priorities, their use of channels and their planning and measurement tactics. The 2020 report captured responses from over 1000 internal communicators across the globe, 49% of which were from the UK. The results also represent a broad range of industries and organisations with an employee base from anywhere upto 50,000+.
The survey has been going from strength to strength over the years – so what are some of the main takeaways from this years results?
1. Internal Communications is seen as a value-added function
Hallelujah! We have been singing the song of our people for so many years now, and collectively we are getting recognised more and more for our efforts. There is a wealth of information and research available that demonstrates that good, effective communication engages employees and contributes to an organisation's bottom line.
For the first time ever in the report, we can see that across the board, regardless of size of employee base, internal communications teams are growing (on average), with even the smallest team numbers previously now doubling in size. On the flipside though, this investment in headcount has resulted in a decrease in annual IC budgets, but regardless, this is a clear vote of confidence from senior leaders in the value of internal communication teams. In fact, over the years internal communicators beliefs that they and their senior leaders agree on the purpose of internal comms has been rising year-on-year, 70% up from 53% in just five years.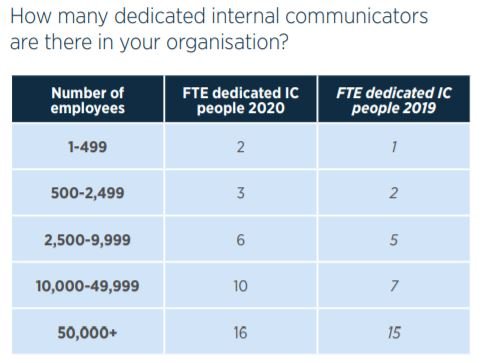 In-line with this, the perception that leaders view their internal comms teams as trusted advisors is also growing, up 3% on prior year. These significant improvements in the perception of internal communications surely correlates to the increased investment in headcount we're seeing this year?
So it's clear that we have won over leaders and demonstrated our value, however it's not all rosy… 43% of IC respondents disagree that internal comms is consulted and involved at every stage of communicating change. Whilst more than half therefore do agree that IC is involved, that is still a significant proportion, demonstrating there is room for improvement. This is potentially not really surprising when you look at where internal communicators spend most of their time; either 88% broadcasting strategic announcements, or corporate announcements (87%), and driving the people agenda and improving employee experience – just one in three are 'very involved' in supporting functional team's communications activities.
2. The role of an internal communicator is multi-faceted
Okay, stating the obvious, we have all known and felt like that for a while, but it seems more prevalent now than ever. While 57% said that their role is entirely dedicated to IC, for the first time ever, respondents (albeit only 2%) said that they report into a strategy, transformation and innovation team – potentially a nod to future structures?
As the lines around internal communication and what drives employee experience and engagement continue to blur, we are seeing more being asked of IC teams across a range of different skill sets:
79% are, or have in the past year, been involved in developing and launching new communication technologies
A similar number also report being involved in supporting key organisational change activities
The proportion of IC Pros who are also providing coaching and training has been growing, this year reaching 39%
Where it was once more common to have specific individuals have roles and responsibilities around business change and implementing technology channels, we are now seeing more of this creeping into our IC roles, broadening the skill sets that internal communicators need to arm themselves with.
In terms of communication channels, specifically face to face channels, not much has changed year-on-year, however, there has been an increase in IC people utilising knowledge sharing sessions, up to 51% from 47% – again, not a notable increase, but perhaps a nod into the future role and direction of internal communications? Gatehouse certainly seem to agree, who in the report state:
"Employees are often crying out for more professional development opportunities and sharing best practice. This offers additional proof that internal communicators are spreading their wings and trying to better the overall employee experience by venturing into traditionally HR-related topics and enabling people to learn how to make the most of what their organisations has to offer".
3. We haven't cracked our challenges
At a global level we can see that IC Pros top three priorities are: 1) communicating strategy, values and purpose, 2) communicating a change or transformation programme and 3) developing or refreshing an IC strategy… although when we filter to the UK specific results, this last point changes to focusing their time on enhancing line manager communication.

Other notable areas of focus include the fact that improving print channels and introducing internal social channels are way down the bottom of the priority list (unsurprisingly I'm sure). In comparison, the 4th top global priority is improving digital channels – warranted too, with 43% of communicators stating their social channels are not effective and 52% disagree that social channels form an integral part of their channel framework… indeed just 6% of IC professionals strongly agree that employees are clear on the purpose of social channels and a similar number feel they have been able to actually demonstrate the value of internal social channels – so more refinement is definitely needed here.
Enhancing leadership visibility is also less of a priority this year, perhaps in-line with the view that leaders now see the value of internal communications and the two are aligned in their goals.
When it comes to challenges however, overall we have made little progress year-on-year. The top barrier to success was identified as the volume of communication is too high, potentially related to the lack of support given to functional departments, resulting in no central view of activity or support? But that's a stretch estimate… Hard to reach employees also remain a challenge, and what has remained one of the top challenges for the past few years is poor line manager skills.
65% of respondents said they give the highest priority to executive team members, medium priority to other senior leaders (66%) followed by the lowest priority (64%) to line managers… and yet this is despite the fact that line manager communication has been a continued challenge for IC teams or that line managers are considerably more visible to teams compared to executive members. This is further supported in the State of the Sector results – IC Pros are willing to support senior leaders with one-to-one coaching and invite them to face to face briefings, yet line managers are only supported in the form of ad-hoc email announcements, toolkits & cascade packs and conference calls / webinars. Indeed, Gatehouse state:
"Much is already done to support senior leaders within organisations. There is no doubt that this has been beneficial to the overall perception of internal communication and the influence afforded to the function – but in order to really drive a better employee experience and improved business outcomes, perhaps it is time to shine a light on line managers and other business functions".
Interestingly we are not seeing fast growth in IC planning processes… in fact in some areas we have regressed. Although IC teams with a comms plan has risen +6 points this year, and +4% for those using a channel framework, the number of individuals using as 12+ month strategy is down -4 points.

One theory is that this could be due to the pace of change and the rate organisations are evolving, therefore reflective of the use of more short-term, tactical comms plans and calendars. However, measurement has also remained a continuing challenge in the IC space…
We all know demonstrating our value is one of the trickier sides to working in IC, but much like not conquering line manager communication, we haven't progressed in measuring our impact and effectiveness either. 20% said they don't, or very rarely measure their internal communications, and the majority (58%) said they only occasionally use data or metrics to check how they're performing and they struggle to maintain momentum inbetween campaigns. It is interesting that the value perception in leaders has increased…but based on what if we're not / can't demonstrate our impact? Perhaps this lack of insight also reflects our use of more short-term planning tactics and a lack of strategy?
Only 17% said they regularly measure and report back on how communications are landing using mostly quantitative data / metrics.
5% regularly measure and track impact, effectively linking quantitative and qualitative data to strategic outcomes
And only 32% go on to share the output of their measurement activities with employees…
While we may not have broken the back of some of our most consistent challenges, we as a community achieved a lot last year, demonstrating our worth to leaders and gaining that much needed investment in resource we have needed for so long. This is big step forward and I will be particularly interested to see what the results look like in 2021 and what we can achieve with more team resource behind us.
I hope you enjoyed my top three takeaways from the 2020 State of the Sector report. You can access and download your own copy of the report here. What are your views on this year's results? What are your top takeaways? Feel free to share your views with me on Twitter @Mandypops